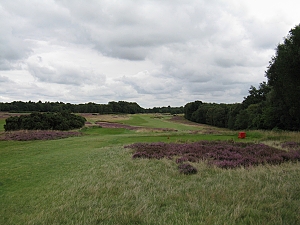 A faithfully preserved heathland track, maybe not quite as flashy as MacKenzie's later works, but as solid an inland course as one can get. The site is rather narrow in parts, so a traditional out and back routing with side-by-side holes would be the expected solution. However, while generelly following this pattern, MacKenzie managed to internally create an intricate maze of playing corridors. It's a routing master class, incorporating every little feature of the gently undulating site into one or more holes.

The original intent undoubtedly was to create a veritable championship course, but there is enough quirk to make it interesting for casual play as well. And if all else fails, there is always the glorious heather, alive and well at Alwoodley. While being one of the sternest hazards in golf, it creates views instead of obscuring them. The same cannot be said about trees, some of the old-time views are definitely gone, but thankfully playing isn't hampered much.

The way the club presents their historically significant course is commendable. They do get some help from the fantastic moorland and heathland turf, but conditioning at this level requires investment as well. The result is a true all-weather, all-season venue: obviously, it cannot play firm and fast in all conditions, but it will always play true to the original design intent.

While the first and last holes could be considered the weakest of the bunch, upon closer inspection they merely turn out to be the most subtle. Although the site does not provide any panorama tees or huge landforms to hit over, there are a number of magnificent tee shots and the true-rolling greens are of a very high standard. Sure, it's not as glamorous as later MacKenzie courses. There are no gimmicks and no gimmees either. It's a tough test, but neither over the top nor a painful trudge - just perfectly balanced, pure golf.