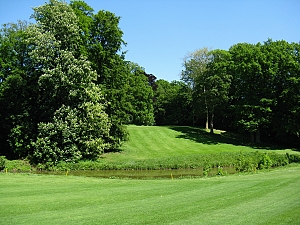 One of the few genuinely quirky routings in Germany. It would be a good course by any standard, but its unusual angles and shot values add an element of surprise. There is something to discover on almost every hole and the player is sure to experience a number of bizarre moments.

Despite its proximity to the sea, it is an old-style parkland layout with an impressive manor as its centerpiece. Intimate tree-lined holes alternate with more open terrain and an old quarry is made much of. Undulations and some blindness are part of the equation. This place could be in England.

An even higher rating would be possible, but the playing surface is a bit loamy and one or two holes need some sparkle to keep up with the rest. Tree management could be better as well.