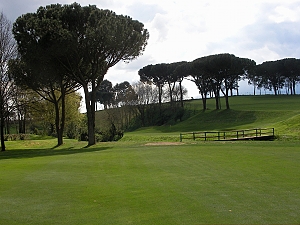 Circolo del Golf di Roma Acquasanta is the oldest course in Italy and still one of the best. It actually sits on a holy site, hence the name (Acqua santa = holy water) and is surrounded by ancient Roman and Christian ruins.

It is one of the few examples of a world-class course that was laid out by its early members instead of a well-known golf architect. The setting is probably the most historic of any course and the old style parkland track absolutely does it justice.

The holes are quirky and full of strategic interest, many different elements of golf architecture have been used, but never overused. The blend of elegance, restraint and excitement is nearly perfect. While it isn't long enough for today's elite, Acquasanta will provide a fun-filled challenge for everyone else. It is an exemplary display of the art of routing a golf course on a restricted site.