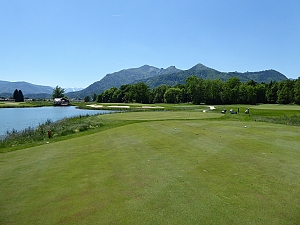 This is an exemplary two dimensional course: completely flat, not even a single tee or green is raised and even the bunkers are extra shallow. The third dimension is reserved for the mountains all around the site and a few scattered trees. And yet it's rare to play on such a professionally designed, built and maintained resort course. Due to the very limited play it is usually in fantastic shape, certainly not as wet as its former life as a swamp would suggest.

Of course there is only so much that can be done with a flat property, but Thomas Himmel managed to give most holes a distinctive strategy. The formula he employed: a flat tee and a native area (water reeds, high rough) to drive over, a few bunkers to define the playing corridors and strategic options, a green defended by a pond or more bunkers. None of that seems overly spectacular, but the meticulous detail work ties in admirably with some creative design ideas.

Walking is of course completely unproblematic, if not very spirited, as there are few corners to turn or discoveries to make. But it's all around good fun to play and the halfway house adds to the very relaxed atmosphere. As does the sneaky labelling of the regular tees as back tees, while another set of front tees pose as the regular tees. That should help to minimise slow play caused by overmatched golfers. And it brings a smile to the face of the average hitter, when he walks all the way back to the last tee. Great stuff, highly recommended for holiday golf.